New Releases
A couple things to note:
Keep an eye on the Patch Notes pages for all updates/bug fixes to the game. We may not include some of them here.
AQ3D is now in Open Beta! Further news and upcoming updates can be found at the Official AQ3D Website.
Latest Release
Challenges
Frostlorn Challenge
Locations
Battleon Updated
Monsters
Faustbite Updated
Phrozen Updated
Sleet Updated
Snowcrasher
NPCs
Artix Updated
Blizzy (NPC) Updated
Shops
15th Anniversary
Frosty Reagents Updated
Mage Boss Craft
Rogue Boss Craft
Items
Armors
Frostlorn Mage Robes
Frostlorn Rogue Armor
Belts
Frostlorn Mage Belt
Frostlorn Rogue Belt
Boots
Frostlorn Mage Boots
Frostlorn Rogue Boots
Capes
15th Anniversary Cape
Frostlorn Mage Back
Frostlorn Rogue Cape
Gloves
Frostlorn Mage Gloves
Frostlorn Rogue Gloves
Helmets & Hoods
Frostlorn Mage Hood
Frostlorn Rogue Hood
Frostlorn Rogue Hooded Mask
Frostlorn Warrior Pelt Helm
Misc. Items
Cold Steel
Epic Ice Shards
Updated
Epic Yettun Horn
Updated
Frostbit Coin
Yettun Fur
Updated
Shoulders
Frostlorn Mage Shoulders
Frostlorn Rogue Shoulders
Weapons
Frostlorn Thawed Lance
---
Recently Rare
These items/monsters/NPCs/locations/events/shops/quests were removed from game this week and are now
.
There are no rare items/monsters/NPCs/locations/events/shops/quests for this week (yet).
---
Previous Release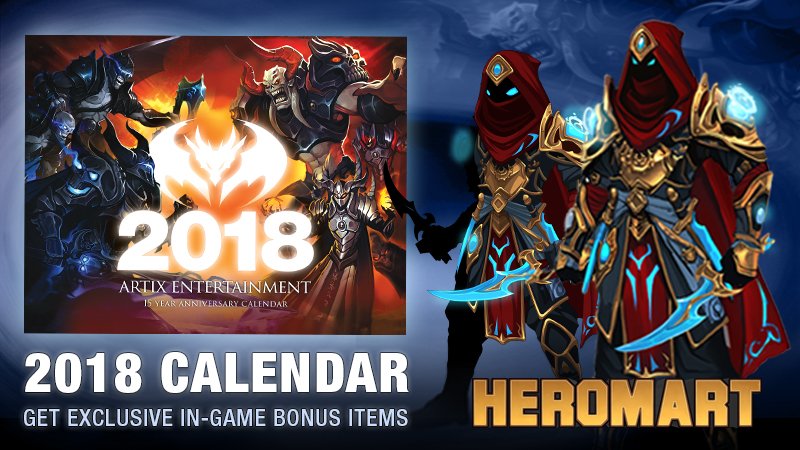 NPCs
Melodia Updated
Shops
2018 Calendar Shop
Items
Armors
Eternal Chronomancer Armor
Belts
Eternal Chronomancer Sash
Boots
Eternal Chronomancer Boots
Capes
Eternal Chronomancer Cloak
Gloves
Eternal Chronomancer Gloves
Helmets & Hoods
Eternal Chronomancer Hood
Eternal Chronomancer Mask
Shoulders
Eternal Chronomancer Shoulder
Weapons
Eternal Chronomancer Dagger